8 Contactless Upgrades: A Safe Stay for Your Hotel Guests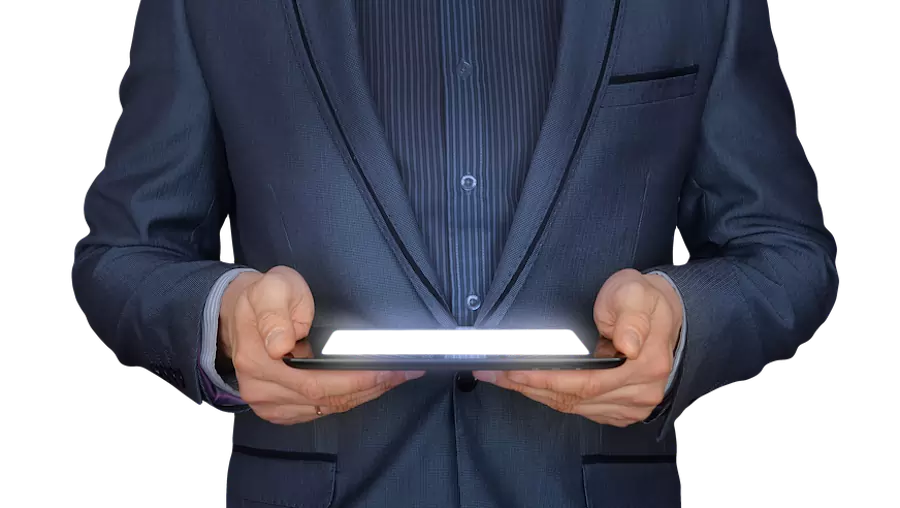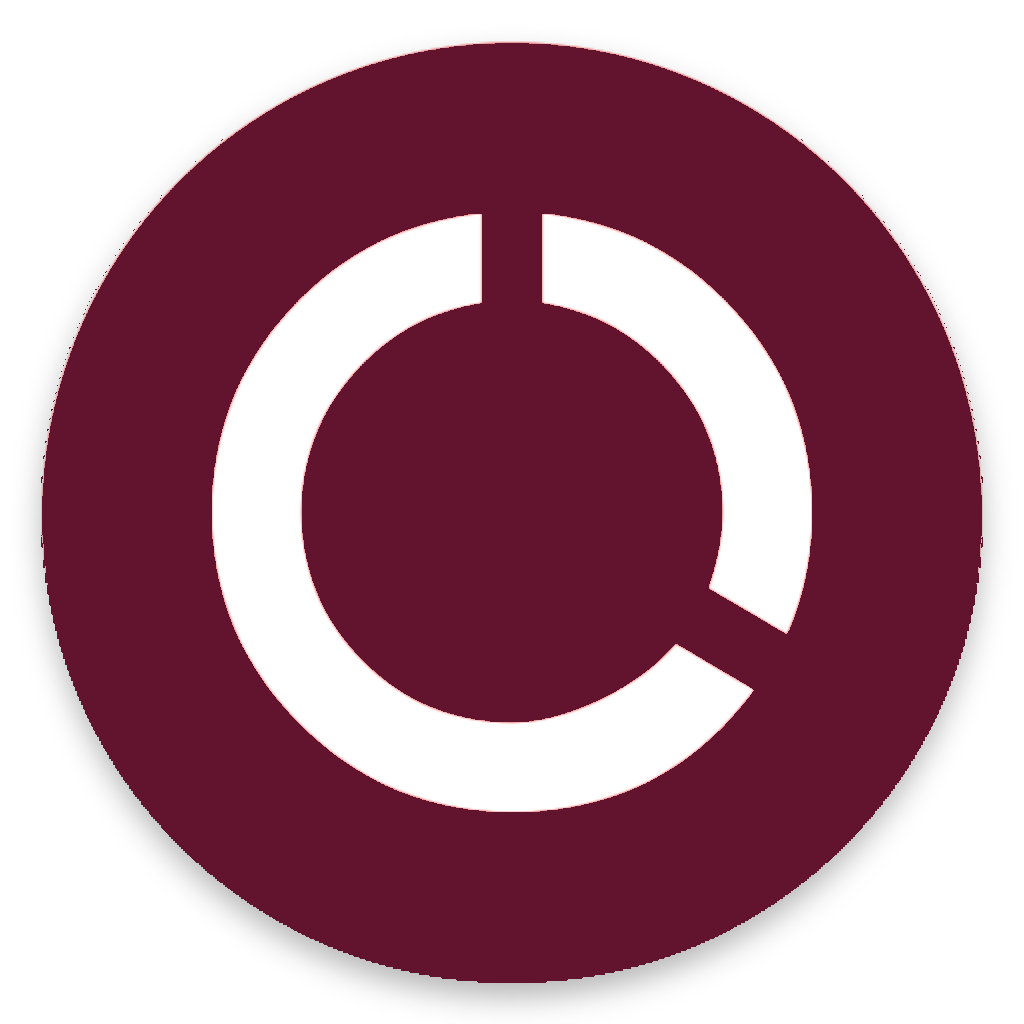 By Michael
The world of hospitality is ever-changing, not only due to increasing levels of competition but also due to world events. It has been a challenge recently for those in the hotel industry. Perhaps this is where contactless upgrades can help…
Experts are predicting it will take until 2023 to get back on track. With many hotel closures during recent world events, a contactless service enabled many to keep up and running. 
So in this helpful article, we can support your move to digital.
Below we've added 8 different contactless upgrades, so you can get started reaping digital benefits straight away! 
We'll get into the details and some of the best ways to keep your hotel guests safe in challenging times. But let's start with a brief background. 
Why hotels are using contactless upgrades and methods 
During global Covid-19 measures, some of the setbacks experienced by the hotel industry were alleviated by the introduction of contactless methods to protect both staff and guests. 
The world began to move again after the more strict lockdowns imposed globally. Guests could bypass some of the main processes of a hotel stay, such as check-in.
By offering guests a contactless upgrade, the hotel industry was able to minimize contact between hotel staff and guests. 
So with a contactless system in place, let's discover some important upgrades you can offer guests during unprecedented times and for our ever-changing world.
According to recent studies, a huge 86% of guests were surveyed. They reported they would more likely use hotels that have contactless check-in. They also cited other self-service features such as reservation and concierge facilities like room service.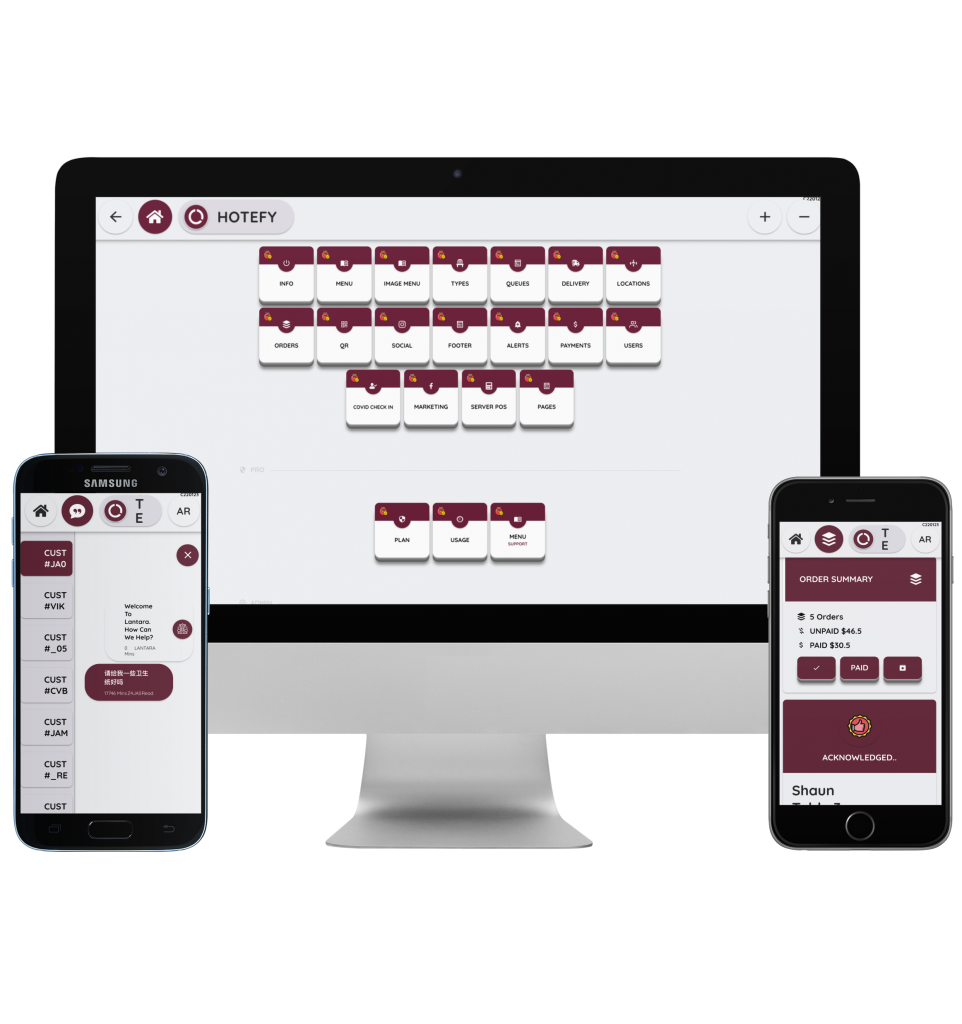 contactless upgrades
8 of the best contactless upgrades for hotel guest safety 
Hotels are known for providing exceptional customer care. And now more than ever, there is a palpable need to ensure guests feel welcomed, cared for, and valued during such uncertain times. 
The global pandemic shifted the priorities of hotel guests in favor of safety. And there are a number of ways you can address these needs as a hotel. 
But this shift also worked as a catalyst for a change that has been brewing for some time now. The major and exciting upgrade to hospitality operations is contactless technology!
With 70% of hoteliers on board saying they will soon be embracing a full digital offering, read on to discover 8 of the best upgrades to ensure a safe stay for your next guest.
1. Contactless room access
Keeping guests safe in situations such as the recent global pandemic can be achieved by giving them the option for a completely contactless stay. Hotels and other hospitality venues can offer digital room keys for check-in. 
This contactless technology allows guests to unlock their rooms with their smartphones. This not only saves their time during check-in …but offering convenient room access without the need for contact between staff and guests.
Another plus point for hoteliers and also guests is the lack of time and money spent on the inconvenience of lost room keys.
"Keeping guests safe in situations such as the recent global pandemic can be achieved with a completely contactless stay."
2. Set up a 24/7 text portal 
Face-to-face interactions can be further limited by using text messaging between staff and your guests. 
This way, customers will be able to ask questions, and request later check-outs for example. By giving your guests this contactless upgrade, they can interact with your services and staff easily and conveniently without leaving their room. 
3. Mobile self-check-in
Self-check-in kiosks have been used fairly widespread in hospitality. By offering a mobile check-in via the best apps for hotels, your customers can not only get prepared more conveniently for their stay, but they will also be able to take advantage of other services and upsell. 
Via the app, your guests will be able to pay with credit cards. They can also upload any necessary documentation in advance skipping the usual contact, time, and staff costs required at an in-person check In.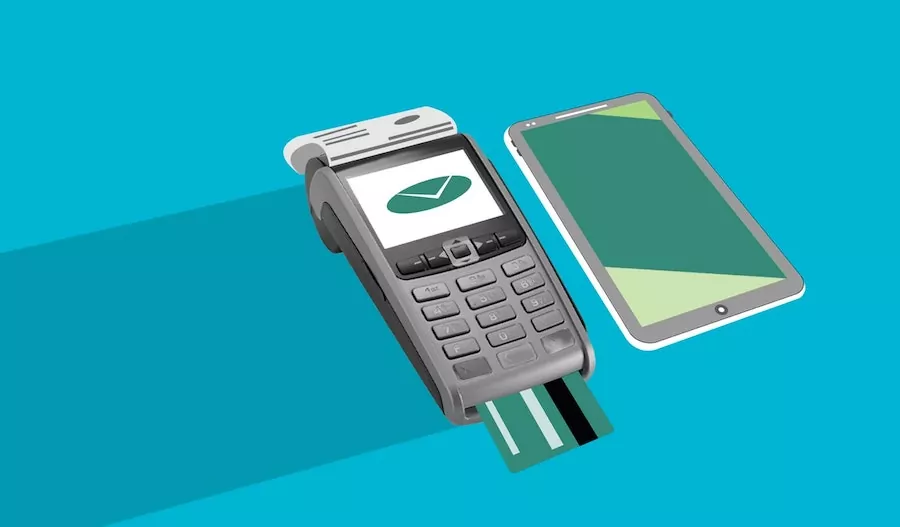 4. Voice-controlled lighting 
Some luxury hotels have already begun to use mobile apps as an upgrade to keep guests safe. 
Hotels that want to offer the best contactless upgrades for their guests are beginning the transition to technological extras such as motion sensors and voice-controlled lighting.
By using a smart hub in rooms, guests can connect to lighting, heating, and other ventilation systems through voice commands.
5. Digital checkout
Many hotels have begun to operate a self-service checkout. This sometimes involves dropping your room key into a perspex box in order to save staff costs. 
But by going fully digital, you can offer your guests extra upgrades to help keep them safe. 
By using the best hotel apps, you can provide app-based forms for reviews and thank you messages. Invoices can then be emailed along with instructions on how to check in and check out. 
Your guests may have any concerns or questions. If so, they can also safely ask via messaging to keep contact between staff and guests to a minimum. 
6. Offer a digital hotel compendium 
Dusty old leather-bound folders containing possibly out-of-date brochures are becoming a thing of the past in our modern world.
Offer your guests a smart way to find out information. Such as meal times, cab companies, menus, and local places of interest directly from a hotel app. 
By offering a digital compendium, guests can view from their devices is another way of offering contactless upgrades to ensure a safe stay for your next hotel guest! 
Not only can your guests have a safe contactless experience they can also book services and other upsells in advance.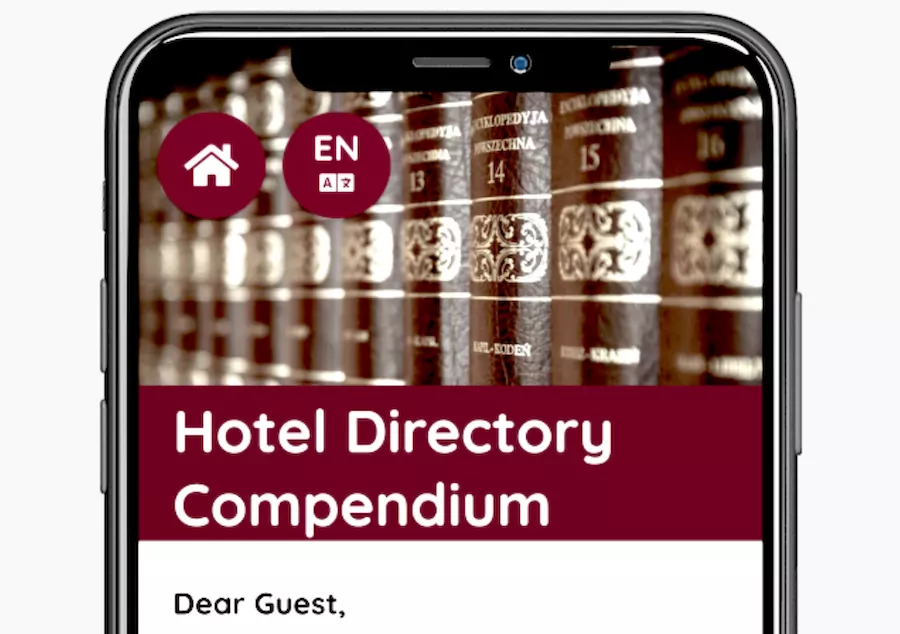 digital hotel directory compendium
7. In-app ordering 
With the type of guests in hotels evolving as the new generation cohorts, the way customers dine has also changed.
Entrepreneurial Gen Z digital nomad requirements and many new types of customers prefer to order food to be delivered to their rooms. 
In app-ordering is the perfect, modern solution for today's guests as well as providing safety by limiting staff contact. 
The best-designed hotel software can offer your customers a one-click option for ordering and paying for room service. Many of the best hotel apps include a QR scan to make taking advantage of special offers and other services simple and safe.
8. Virtual concierge
Having your own butler might sound like a dream come true, but with Virtual concierges, your guests can be offered 24/7 personalized assistance. 
Using the best concierge apps, guests can find what they need much faster and also browse your offers and other services. 
Guests can stay super safe either ordering from their rooms or making purchases for extras in advance of the stay. Customers can order room service, spa treats, and other services your hotel offers with a single click. And not only that but hotel food and beverage sales can improve significantly because of it. 
Improve your efficiency, reduce staff costs and provide the best contactless upgrades to ensure a safe stay for your next hotel guest!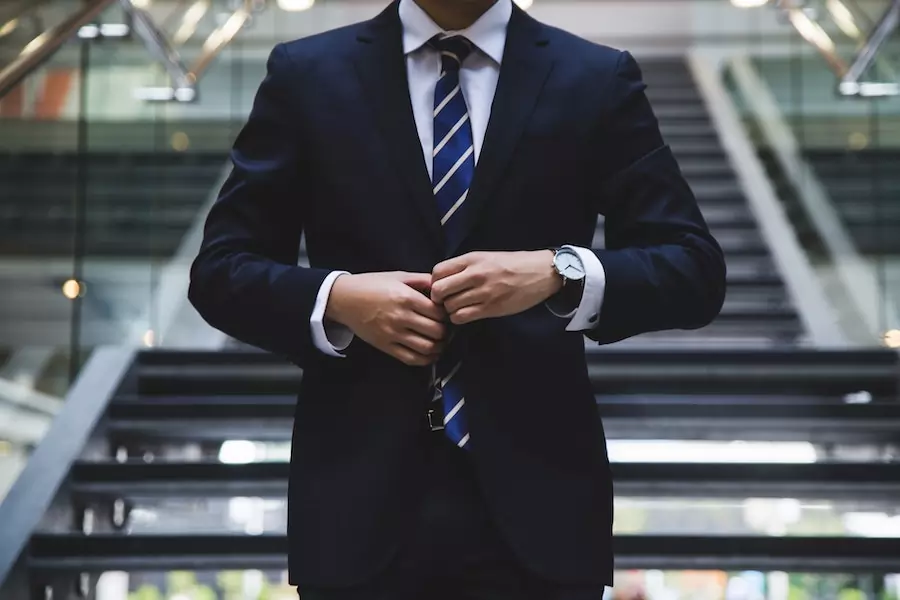 Contactless upgrades … and even more
So we hope that's given any hoteliers looking for some compelling contactless upgrades which can keep your guests safe in an uncertain world! 
Not only will it encourage more sales for your venue. But by moving towards a more contactless offering you are keeping up technologically in an ever-competitive landscape. For more information on the Hotefy app and how it can give your guests contactless upgrades at their fingertips, head over to book a demo here