15 Best Online Ordering Systems for Hotels and Restaurants in 2022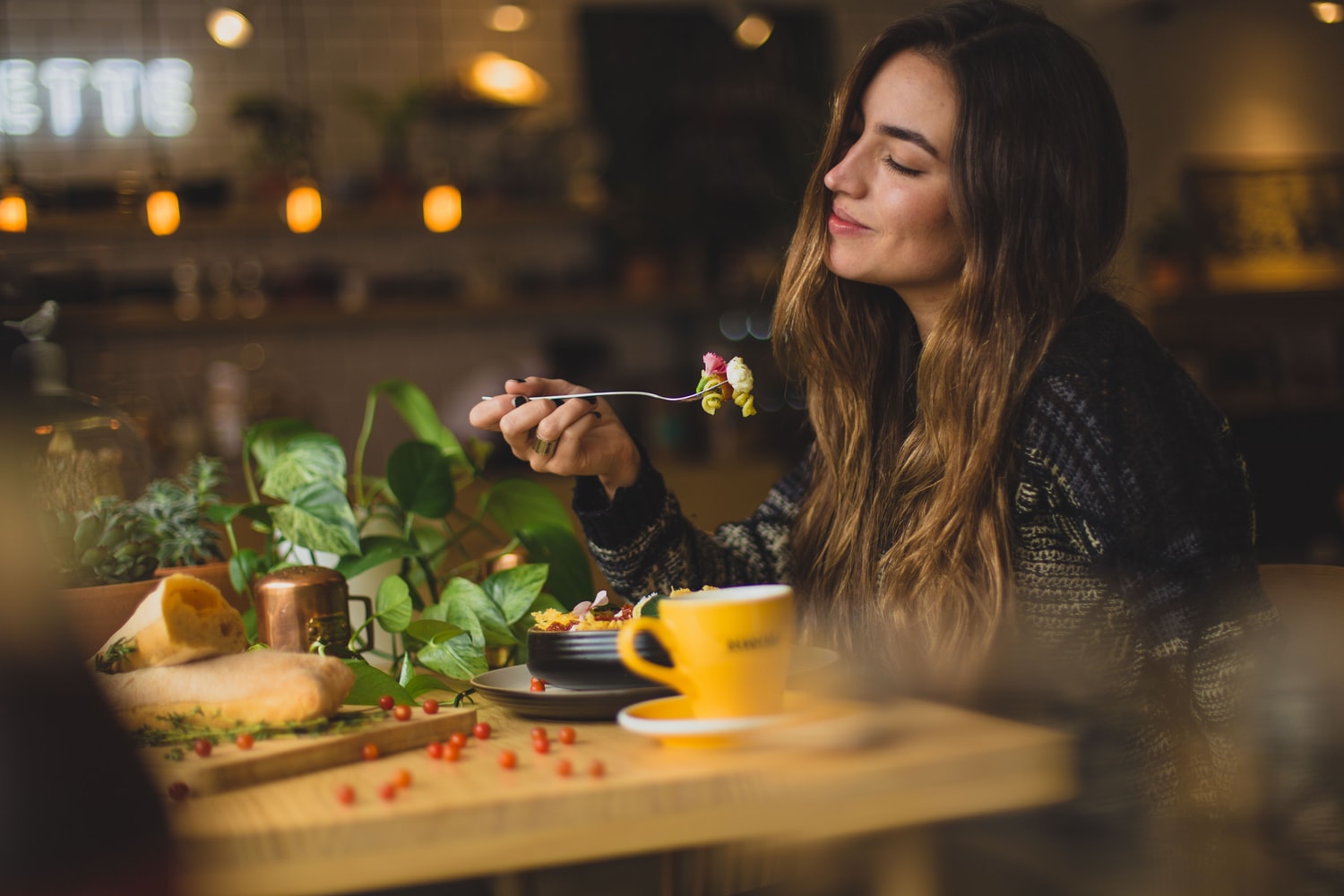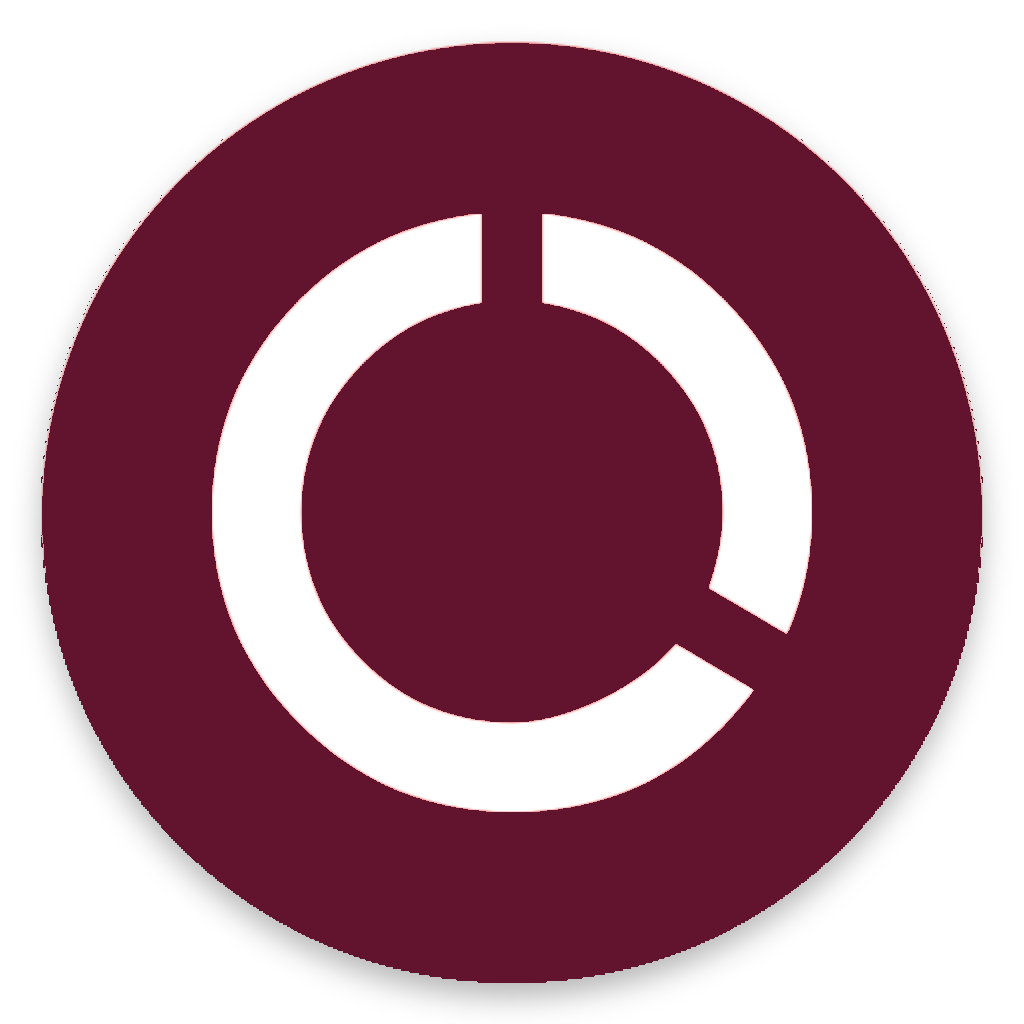 By Sujit
The Finalists: The Top 15 Room Service Apps for Hotels
Online ordering systems and room service apps are going to remain a major source of revenue for hotels and restaurants even beyond 2022. While on-site ordering systems allow restaurants to maximize revenue from on-premises guests, digital systems allow restaurants to grow revenue by attracting new customers. If statistics are to be believed, the current generation of millennials is going to stick with online ordering systems well after the pandemic is over.  
Currently, this tech space is crowded and customers have an array of choices. There are brands like Uber Eats and Grubhub that allow customers to order directly from the comfort of their homes, but for restaurants, these apps will take commissions of up to 35%.
There are also direct ordering systems within restaurants that allow guests to order directly from what is on the menu. A direct delivery system is a win-win situation as it allows restaurants to keep the full amount of the sale while making it seamless for customers to place orders without the need to actually initiate a conversation with staff.
For hotels, having a guest ordering solution means having the flexibility of offering both traditional room service orders and outsourcing to local restaurants.
Before we list the 15 most promising online ordering systems for hotels and restaurants, let's understand what the hospitality industry must look for when installing a digital guest ordering solution.
Pointers for Selecting From Online Ordering Systems
There are three main ways of implementing online ordering systems at your restaurant:
Point-of-sale (POS) systems:

Your online delivery system can be integrated with the POS to take orders, route them to the kitchen, and alert staff as to when the customer or delivery person will pick up the order. Restaurants will need to have a POS that makes it easy to set up an ordering page; it can be done with an e-commerce integration such as Shopify.

Third-party ordering app:

Some POS systems don't have an online ordering system built into the interface. The best option for these is to sync with third-party apps at an additional cost. Upserve and Toast are two possibilities for getting started with a restaurant POS system. This kind of system does not require much to be done on the restaurant's part to set up and start accepting orders. Besides this, the system allows you to keep the customer order information in a single location by combining orders from both on-premises guests and online customers.  

Marketplace delivery apps:

Lastly, you can choose to go with online delivery apps like Uber Eats and DoorDash. These were created to keep up with the demands of the restaurant industry. Most of the apps in this category are intuitive and easy to implement. However, the major downside is the high commission rate charged – starting at 25% on each sale – as well as potential compatibility issues with your current guest ordering solution.'
Main Advantages of Online Ordering Solutions
While we may have spelled out the different ways through which online ordering apps can be incorporated by a restaurant, we always suggest for restaurants to go with a direct ordering system. This is for a variety of reasons:
Delivers convenience

: After implementing a direct online ordering system, restaurants are no longer compelled to invest in more staff to take orders. The guests simply place an order with their smart phones, and the staff or last-mile delivery partner delivers the food with the least amount of hassle. This is convenient for both the restaurant and the guests – there is no ambiguity or miscommunication when the order is placed.

Expands restaurant customer base and increases revenues for hotels

: An online guest ordering solution will allow hotels to provide mobile room service and outsource their food requests to local restaurants instead of relying upon third-party platforms. This is a cost-effective solution for the hotels and fosters community partnerships with local restaurants.   

Less costly:

Adding a direct ordering system will save you money over the other options in the long-run.
Key Factors to Consider When Selecting an Online Ordering App
Compatibility:

The key to implementing an app is compatibility with existing systems.

Cost:

Most third-party delivery apps charge you a percentage of each sale. Other apps may charge a one-time installation fee and subsequently charge for new updates and maintenance. 

Subscription-based model

: Check whether the apps offer a convenient subscription-based payment model. Both Orderlina and Hotefy have a subscription-based payment model. 

Visibility:

This is the most common reason that restaurants go with third-party apps – they heavily advertise themselves to reach new customers.

Ease of use:

Always go with an app that has an intuitive interface and is easy for the staff to operate. Otherwise, you might be faced with a "crisis situation" emanating from the app when a staff member comes across something they can't figure out.

Customer loyalty:

While third-party apps are great on visibility, they do very little for promoting a specific restaurant or cultivating loyal customers; a direct ordering app is specific to YOUR restaurant or venue.

Customer experience:

The key is to make it easy for the customer to browse the menu, place an order, and complete their payment.
You might think that online ordering systems are complicated investments in your time and money, but they will continue to remain relevant well after the pandemic. According to the latest reports, restaurant delivery sales are likely to touch $365 billion by 2030.  
15 Best Online Ordering Systems and Room Service Apps for Hotels and Restaurants in 2022
All the apps mentioned here are POS apps and integrations for hotels and restaurants. These apps allow guests to place orders from within the premises of bars, restaurants, poolside, and so on.
Bbot Smart Ordering
The system works for any kind of food business – take out, in-venue dining, catering, delivery, etc. Bbot is entirely web-based and allows the staff to edit and upload their branding to their digital menus. The software was created to function both on-premises and off-site with just a few taps on a guest's smart phone. Payments can be done without the need for a physical credit card or paper receipts, and it supports a variety of payment options.
Pricing: Monthly subscription; allows a free trial before committing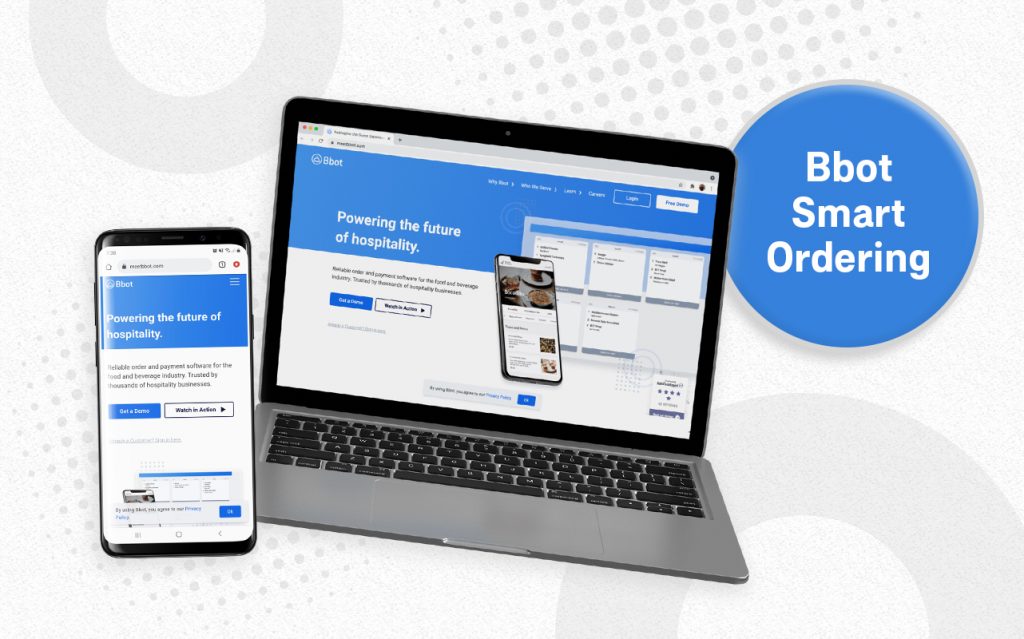 15 Best Online Ordering Systems and Room Service Apps for Hotels and Restaurants in 2022
All the apps mentioned here are POS apps and integrations for hotels and restaurants. These apps allow guests to place orders from within the premises of bars, restaurants, poolside, and so on.
Pricing: Monthly subscription; allows a free trial before committing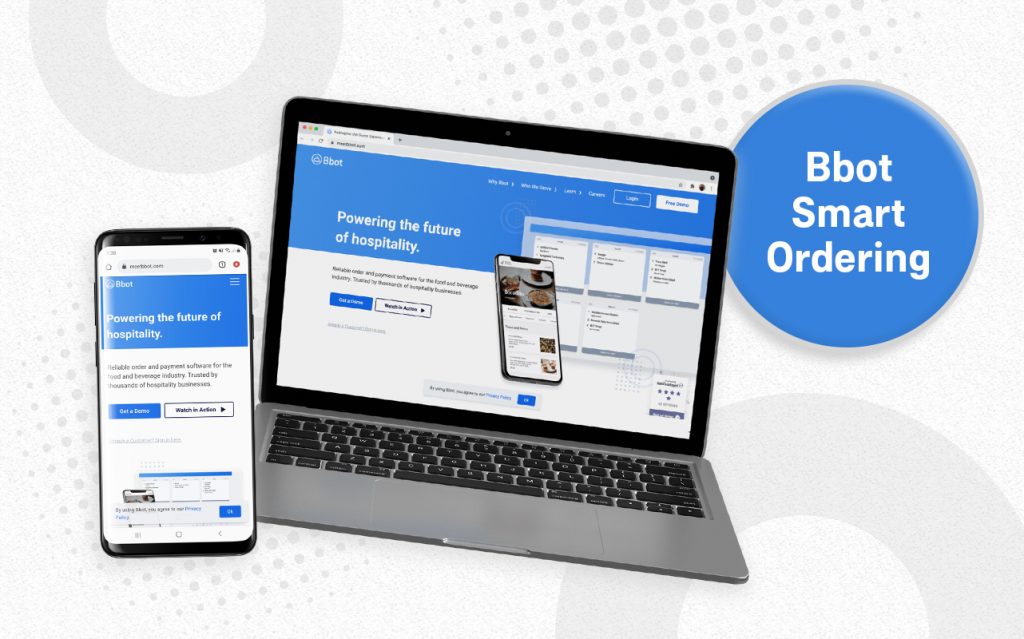 RoomOrders
This is one of the cloud-based room service apps that not only works in hotels but also for venues like golf courses, gift shops, and other vendors. Operators can configure their menus for viewing and ordering from anywhere on- or off-premises. Customers or guests can access the menu by scanning a QR code or tapping their smart phones on an NFC tag.
Pricing: $50 monthly fee per venue + 1-5% fee per transaction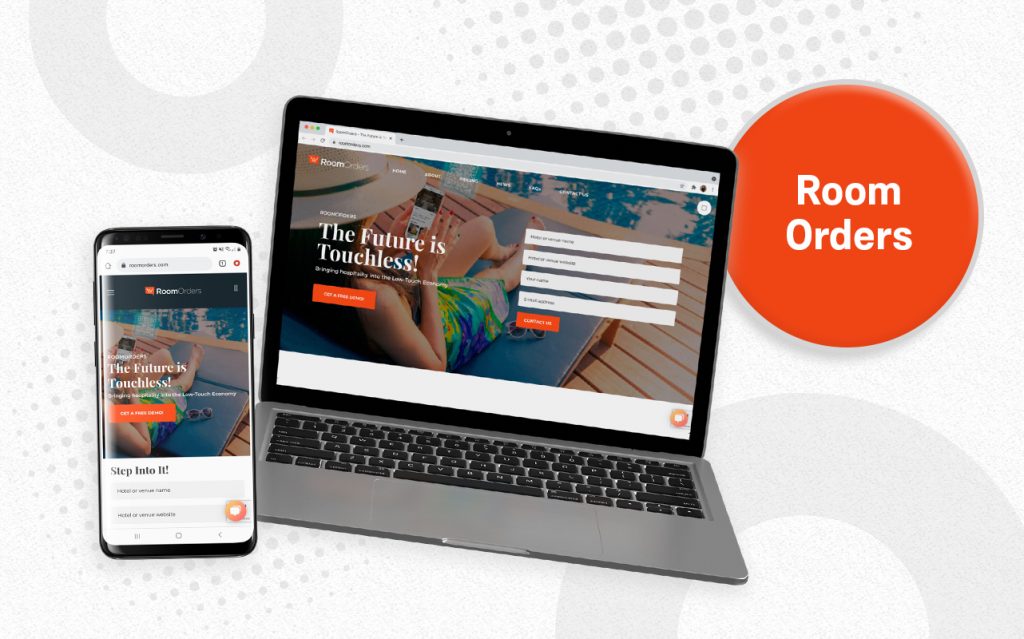 ServeSafely
This system is suitable for all types of food and beverage (F&B) venues including concert halls and nightclubs. The app allows businesses to optimize revenue and profitability with customizable menus and tools to sell high-margin menu items. It complies with GDPR marketing permissions that allow businesses to use customer data for repeat sales and loyalty. It also comes with a variety of payment options and customer support.
Pricing: Implementation fee + monthly fee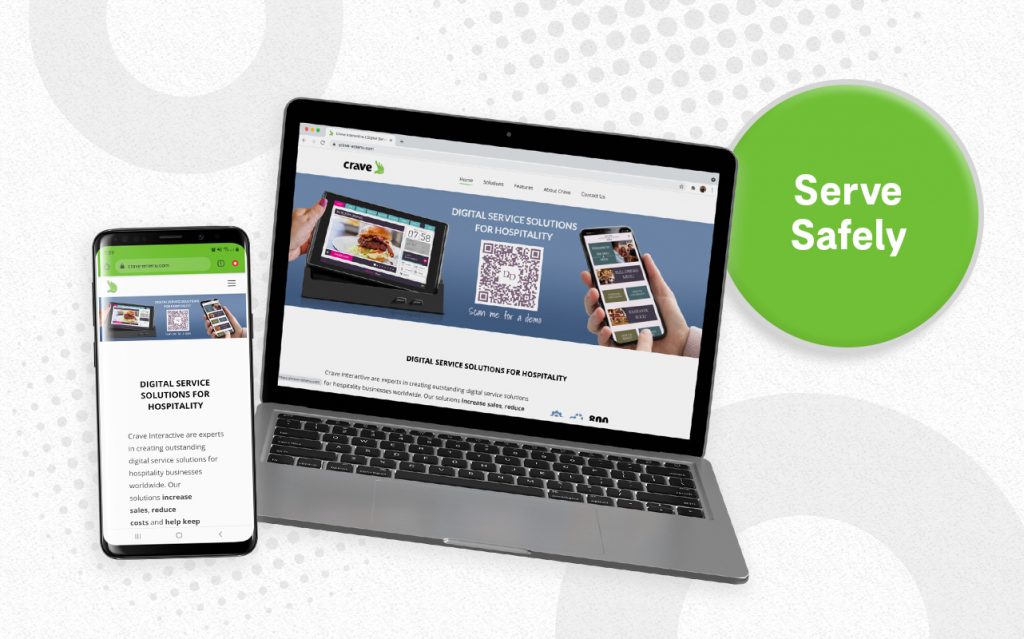 SABA F&B Ordering
This is one of the more robust room service apps. It allows guests to browse menus and order from anywhere in the hotel; the system allows the creation of editable menus, inclusion of upsell features, and support for multiple languages. Customers can access the app with a QR code or by clicking the property's website or social media pages. In addition, the app can be embedded in the in-room tablets or an existing hotel concierge app.
Pricing: Monthly fee; allows a 30-day free trial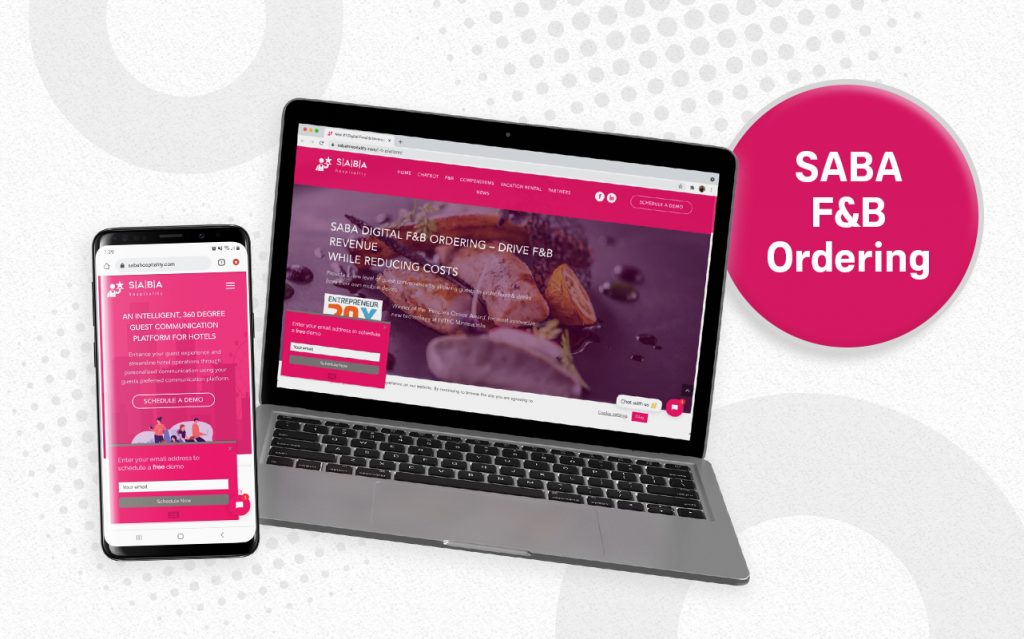 Flexkeeping
Initially, this app was created as a housekeeping system, but currently it can be moulded to suit a variety of needs so we included it in our list of room service apps. The app allows hotels to digitize their in-room dining operations, from ordering to analytics. It supports the creation of digital menus, notifications to staff, and real-time order status updates. The app provides various insights such as the popularity of items on the menu, order times, and order volume. The entire interface is seamless and easy to use.
Pricing: Monthly fee; allows a 30-day free trial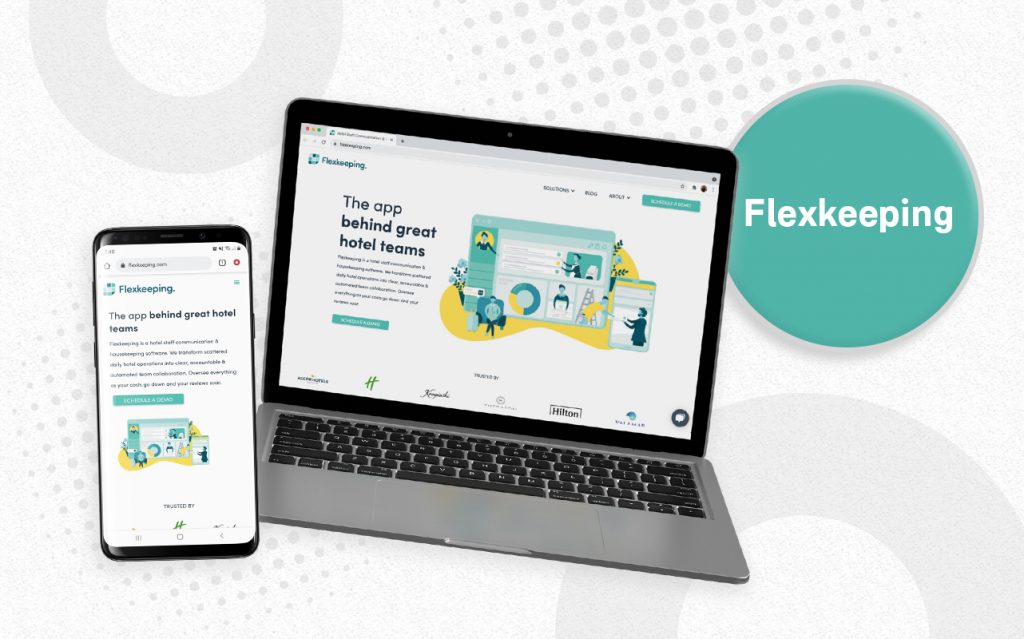 Orderlina
A direct ordering solution for restaurants to grow their brands, Orderlina meets the demand of guests wanting to order directly from restaurants. They provide tableside, pickup, and direct ordering solutions that can be branded with the restaurant's colors, logo, and domain. Restaurants are even able to take room service orders from hotels by plugging their digital menu into the hotel concierge software used by partner properties – see Hotefy below. 
Pricing: $19 – $99 depending upon venue size; comes with a free trial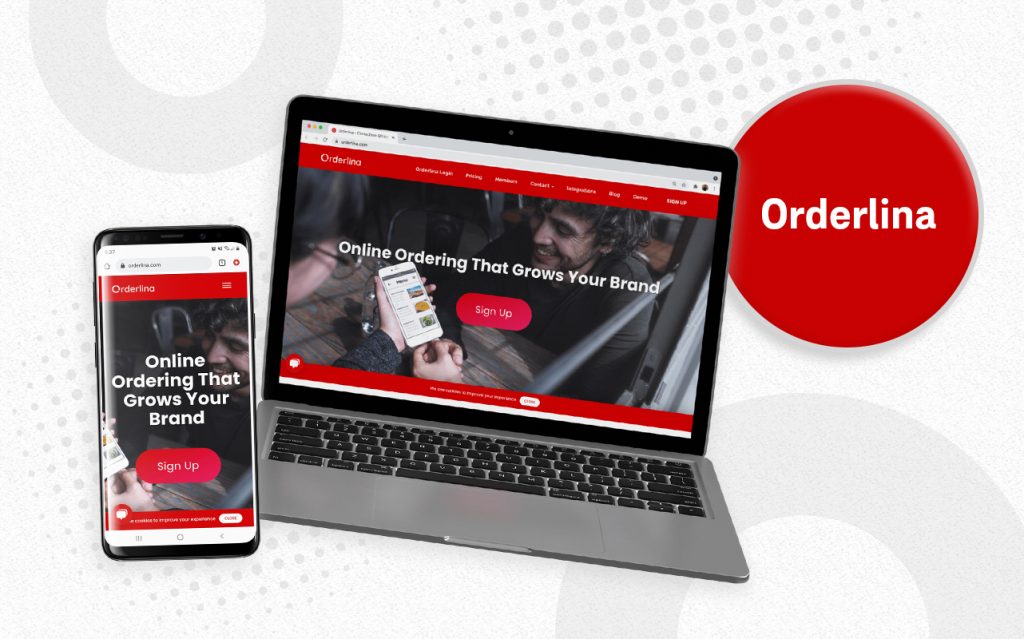 Hotefy by Orderlina
This is a complete hotel mobile concierge solution. Guests can access the web app by QR code or link and order any of the hotel's services, even before check-in. Operators can customize this hotel guest software to their brand, allowing guests to order room service, place pool and beachside orders, upgrade rooms, book tours, and set up spa treatments. Guests can pay by card, Apple & Google Pay, or add these to their room bill. Hotefy has seen per-guest revenues increase by 30% when implementing their hotel guest software. The app also enables the hotel to outsource their F&B by adding Orderlina menus from local restaurants.  
Pricing (per month): Trial: $0 | Hotel: $119 | HotelPro: $249 | Enterprise: Custom Pricing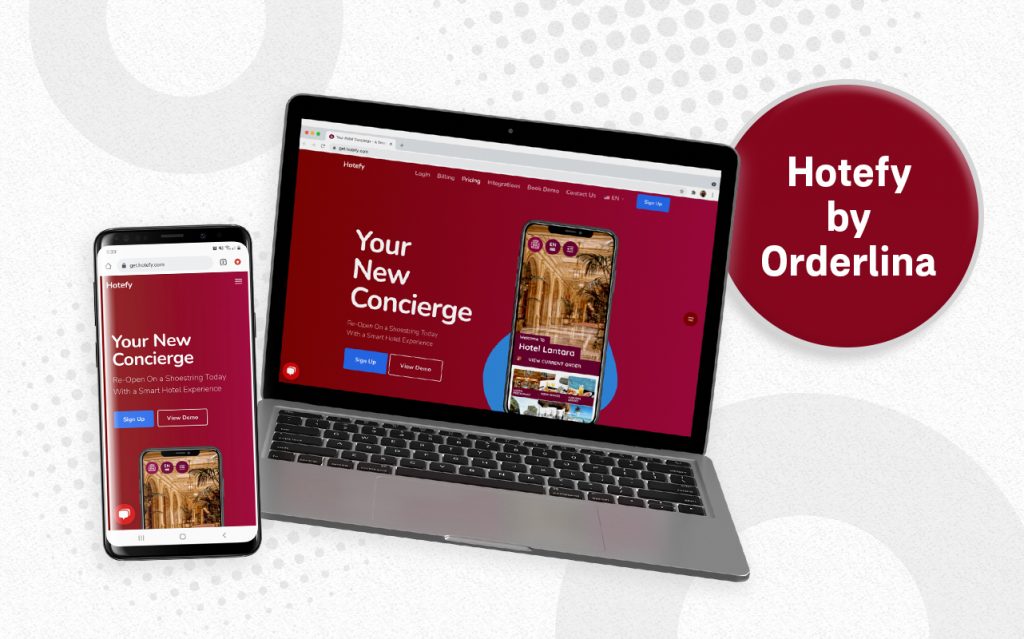 Butler Hospitality
This is an ordering app that takes care of room service orders for hotels with their unique network of ghost kitchens. The app is capable of serving all types of properties, from five-star hotels to select-service venues. Hotel guests receive a digital menu via text or email while checking in on their smart phones so they are encouraged and enabled to easily place orders during their stay. Businesses are known for improving customer ratings with Butler.
Pricing: Provided by the vendor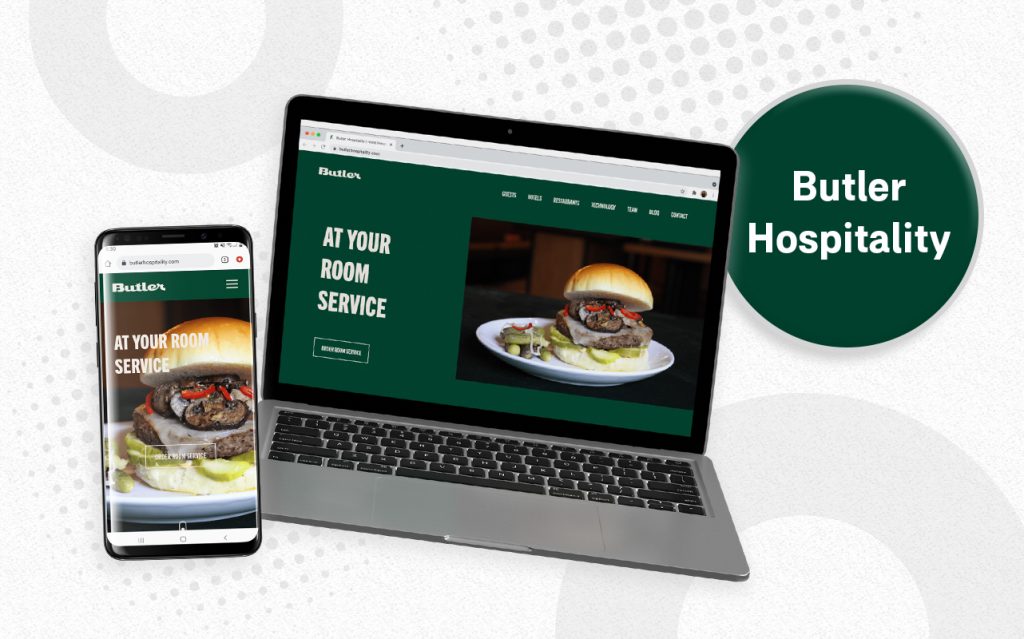 Clover Online Ordering
This app gives restaurants two options – a customized Clover web page or app. The system is robust enough to create an online menu, fire off orders to the kitchen, and send alerts for order pickup. The app allows restaurants to keep track of customer information to improve customer loyalty. The only downside is the need to integrate the app with a Clover POS device.
Pricing: Provided by the vendor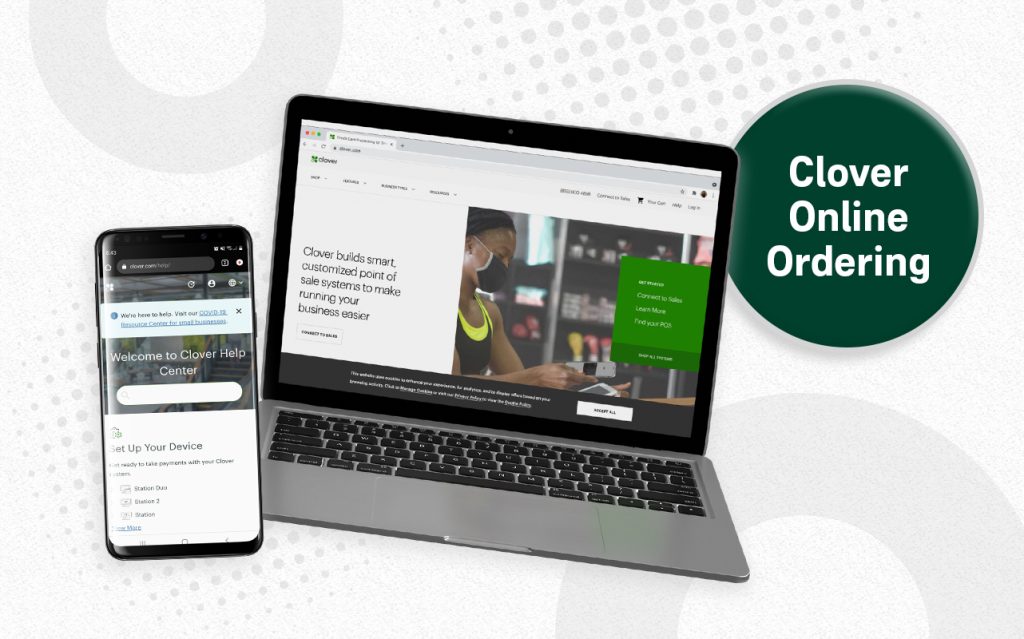 ChowNow Online Ordering
This is a commission-free delivery app allowing restaurants to make the most from each sale. It is a third-party app that integrates with the POS and offers options to capture online orders. Customers can order from the mobile app or from a customized restaurant website. Integrations with Yelp, Instagram, and Google can improve a restaurant's visibility.
Pricing: $99 – $150 monthly fee, depending upon features used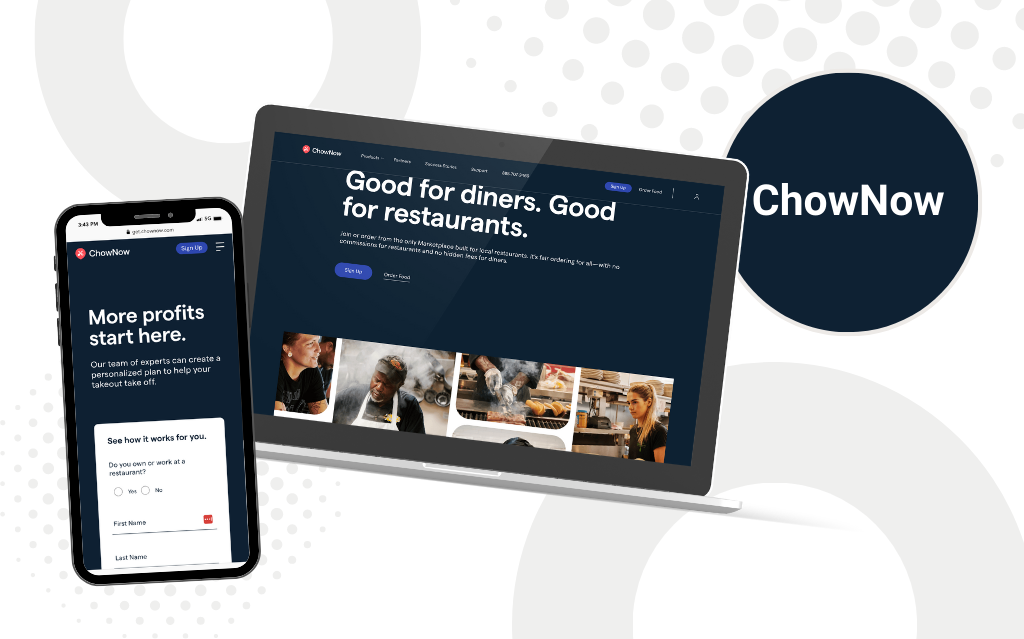 Toast POS
This app is only available if you buy a Toast POS system. That being said, it comes with several features to boost revenues. The app allows restaurants to create loyalty programs, manage inventory, and even send gift cards.
Pricing: Subscription-based model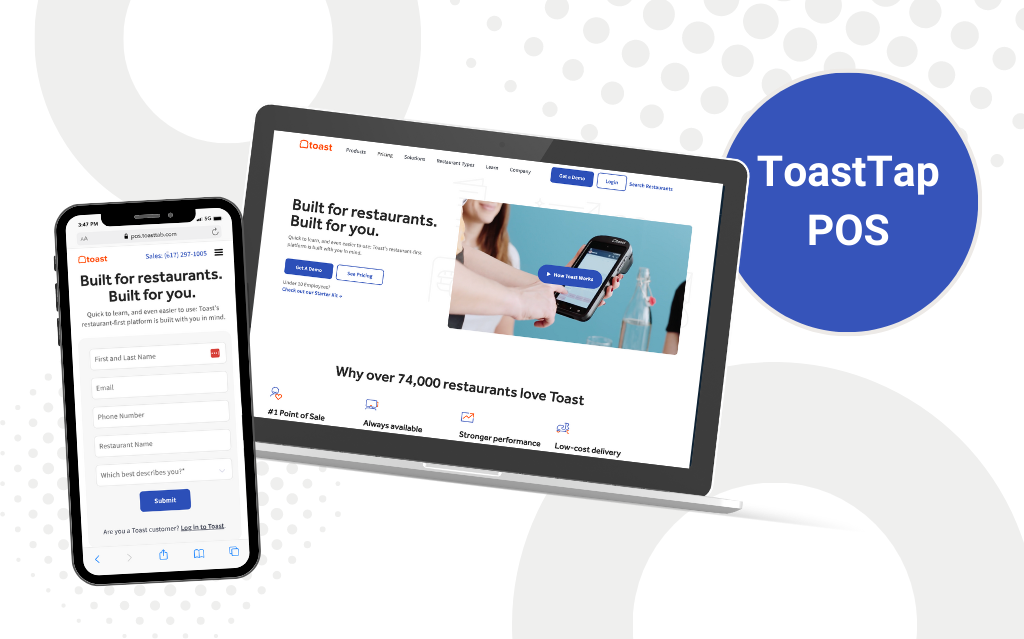 FreshBytes
This one was especially designed for small and medium businesses but comes with all the features used by large chain restaurants. FreshBytes offers commission-free, mobile-friendly, branded services along with fully integrated online ordering features. This includes website design, one-touch reordering, social media ordering, printing kitchen tickets, 24/7 customer support, and smart messaging.
Pricing: Starts at $89 per month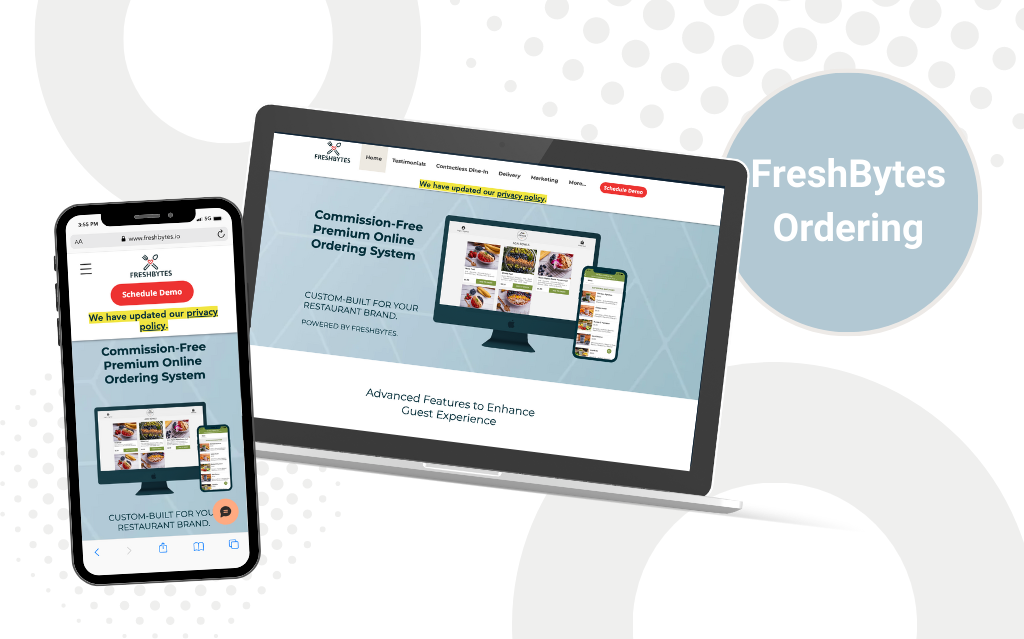 MenuDrive
This system is great for any restaurant that wants to create a branded ordering experience with its website. Users can customize their POS and ordering systems by sending their menu, photos, and branding materials to MenuDrive, which then puts it all together. This app also offers integrated marketing services to build your customer base.
Pricing: $99 per month per location + a $99 one-time setup fee. They also charge a 3.5% credit card processing fee + 15 cents per transaction.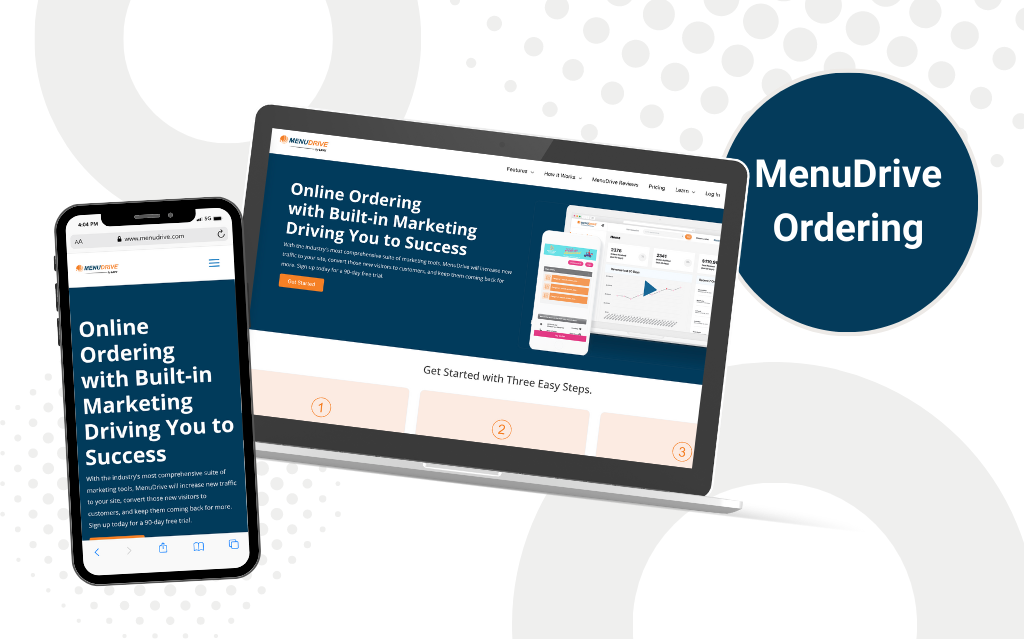 Upserve
This is a restaurant management system that can be used for bars, wineries, bakeries, and even coffee shops. It easily integrates with third-party apps like DoorDash and Uber Eats to give you both a fully branded ordering experience and better visibility. It was also designed to provide analytics, making it easy to gauge your restaurant's performance.
Pricing: $59 per month + $60 for every additional terminal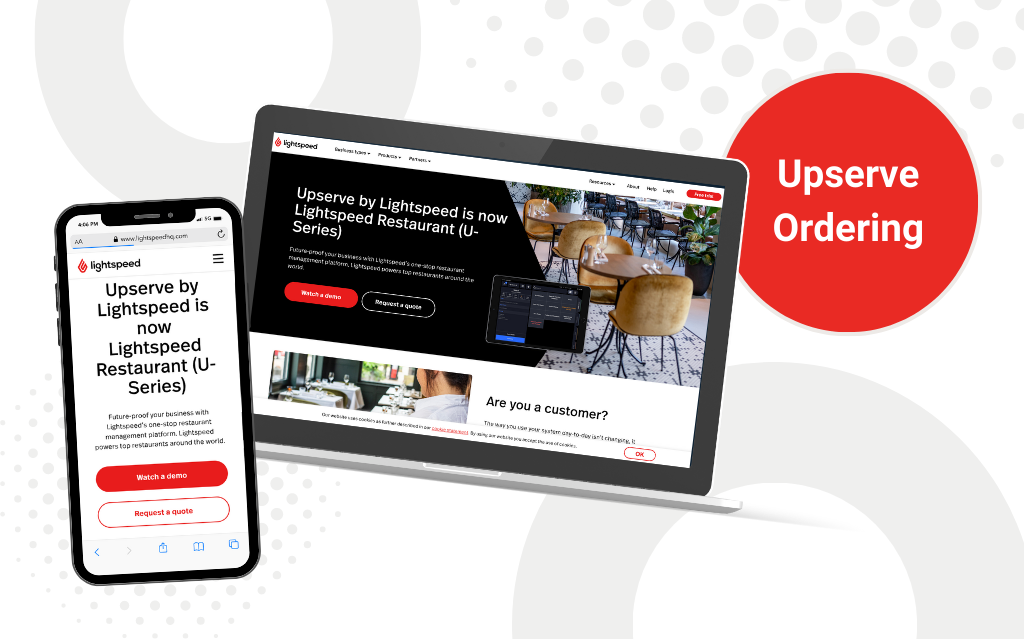 The Ordering App
This is a guest ordering solution from the stables of Google and it allows customers to order right from the restaurant's website. It allows great visibility and reach for the restaurant and reduces the number of steps required by the customer to place an order. It easily integrates with Clover and Square and also comes as an app that can be downloaded to a mobile device.
Pricing: Provided by the vendor
Conclusion:  
While there is a range of great solutions, there are some that stand out for those with specific needs. If you are currently using Toast as your POS, then consider their ordering solution. If you want a customizable app that provides both table ordering and direct delivery, then look at Orderlina for your restaurant. Hotels that require a branded guest ordering solution with both contactless ordering and payments for room service should try out Hotefy. They also allow outsourcing of F&B and tours, which is a great way to add to your revenue streams. Both Orderlina and Hotefy provide subscription-based pricing so you will know your tech spend.